Let's start off by saying for those of you who are scared to buy the game because other reviews and YouTube channels are telling you that the controls are too difficult and complicated, and online competitors are too extreme to challenge; I say that is all hogwash! 
Yes, it takes time to master but, that is only to learn the grappling techniques. The online mode is not that difficult as you are challenging real people who are also trying to play the game properly and do new tricks. Although, you do get the hardcore UFC guys who will knock you out within the first round, they tend to be very rare in my experience. Online fighters are more likely to fight you head on than wanting to play a ground game with you because of their inexperience as well.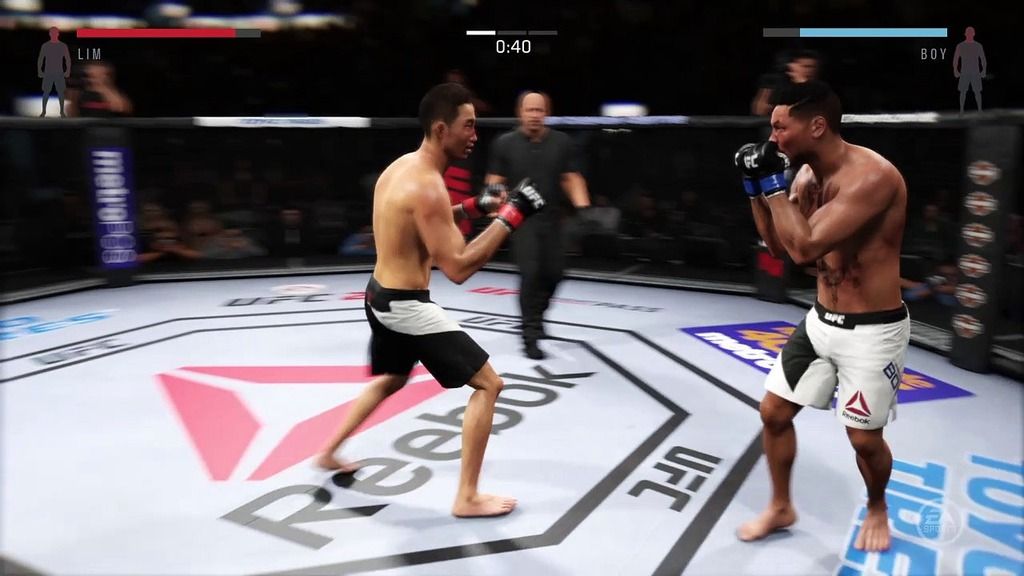 I was very amazed by the graphics of the game. It felt as if I was controlling a real person, and the character hair movement adds to its realism. Some key graphical stuff I liked was the blood flying if you throw a proper punch and the bruising on the opponent's body if you keep on targeting an area. Other than the fighters and the ring, the rest of the game is not so impressive, the audience feel almost non-existent, but you hardly take note of them, which makes it ok.
Another aspect of the game which I really liked was the commentating. It just boosts that feeling like you are in a real MMA fight.
The menu isn't all that hard to navigate through but it can be overwhelming when you first see it. The 4 main sections I use are the Character creation panel, which in some ways is very limiting for designing purposes, and editing stats can become a tedious task if you don't know what kind of fighter you want. Then the other 3 is the Fight Now panel to challenge friends or the CPU, the Practice panel, and lastly the Online Battle Panel.
When all is said and done, I think players who are seeking something new will like this game, it's very different from fighting games like Mortal Kombat and Street Fighter series.