Ready up your team, strap up your boots and get ready to get your hands soiled with the new Battlefield 1. The game will be releasing this October. And guys, it delivers. Today I got my hands on the BF1 Open Beta PC game, and once my download was done, I immediately jumped in game. 
Let's talk about the things you want to hear, like Graphics. The game has come a long way from the early BF2, but we already knew that. BF1 Sinai Desert map offers an awesome graphically intense game, from Bullets flying pass your face and grenade fragments spraying around to the terrain throwing out some sand storms. The landscape is rugged with tall mountains to climb and ditches to sneak in. The game holds true to its ever-changing environments and destructible structures.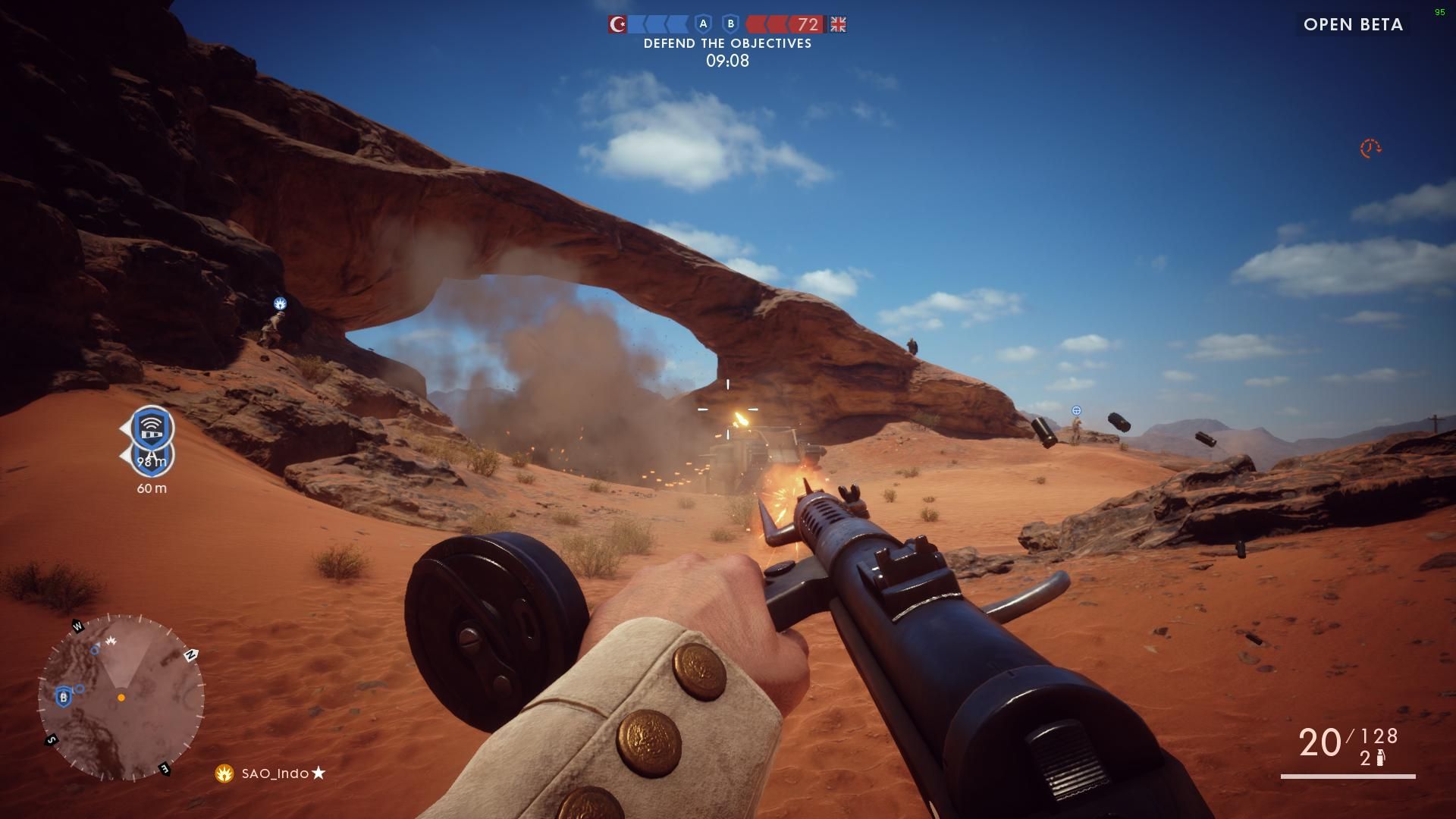 BF1 brings back the 4 major classes of: Assault, Support, Medic and Scout. But also adds an additional 2 classes with their own weapon sets, which are the Pilot and Tanker classes. I tried out the 4 primary guns available which are: The MP 18 Trench, a very reliable close to medium range gun, for frontline players. The Cei-Rigotti Factory, which suits a medic nicely. The Lewis Gun Low Weight, Which offers heavy suppressing fire. And lastly. The SMLE MKIII Sharpshooter, for those beginner snipers who are still learning the game. 
There are only 2 modes available on the Open Beta version, which are: Conquest and Rush. The Conquest mode was very fast paced and disorientating at the start, as there were players on level 40 already. There were planes flying above which I could not take cover from as I did not know the map. I soon got to grips and started following my teammates, only to lose the match. I switched to the Rush mode and it was very relaxed with almost the same amount of players. And I could now begin to play the game my way.
The game does feel a bit more controlled as appose to the BF4 gameplay, but there was the glitch of me picking up a rifle in a box and only being able to use it while in prone position. Aside from that, the game played smooth on my GTX 770 card and on Ultra settings. I can't wait to get my hands on the game once it is released to check out all the maps and weapons. BF1 is breathing new life into the FPS genre with its old-school take on the franchise.